When: September 5th, 2018 at 7 PM – 8 PM
(3038 Hennepin Avenue, Minneapolis, Minnesota)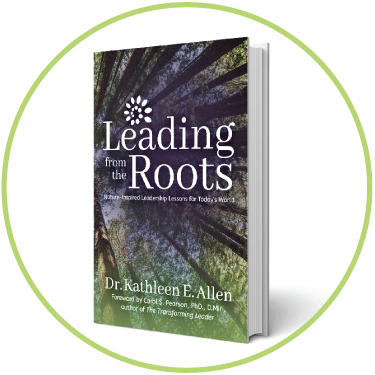 Can we design organizations in a way that creates a space where employees, the organization, and the larger community all thrive? And if so, where can we go for inspiration to help us achieve this goal?
In a time of volatile and complex uncertainty, it is time to learn the lessons that nature has compiled from 3.8 billion years of research and development. Nature is an interdependent, dynamic and living system – just like today's organizations and communities. Kathleen Allen uses nature as a model, mentor, and muse to rethink how leadership is practiced today. Leading from the Roots: Nature Inspired Leadership Lessons for Today's World takes nature as a source of inspiration to help organizations see a new way of leading and designing workplace structure, applying the generous framework found in mature ecologies to human organizations.
In Leading from the Roots, Kathleen Allen helps shift assumptions, practices, structures, and processes of organizations to become more resilient and nourishing for all, and, along the way, design the way out of workplace dysfunction and drama.
Dr. Kathleen E. Allen is President of Allen and Associates, a consulting firm that specializes in leadership coaching, innovation, and organizational change in non-profit and for-profit organizations.
She is the author of Leading from the Roots: Nature Inspired Leadership Lessons for Today's World and has written widely on leadership and change. She writes a weekly blog on leadership and organizations that describes a new paradigm of leadership based in lessons from nature and living systems. She has a doctorate in leadership from the University of San Diego.
View This Event on Facebook