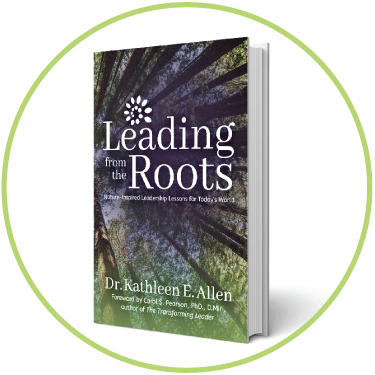 Leading from the Roots
Nature Inspired Leadership Lessons for Today's World
Leading from the Roots is the paradigm for leadership in the 21st century.
Now Available for Digital Download!
Get Your Copy Today
Underlying design principles found in mature ecological systems in nature and how they can be applied to your organization.
Dynamics found in living systems and how to shift your leadership to lead from a living system perspective.
What nature's design principles and living system dynamics can teach us about what we need to focus on and let go of in our leadership practices.
Now Available for Digital Download!
Leading From The Roots: 
Nature Inspired Leadership Lessons for Today's World
You can pre-order Leading from the Roots: Nature Inspired Leadership Lessons for Today's World from your favorite bookseller
Book Release Date:
September 4th, 2018
Why Leaders Love Leading From the Roots
"Leading from the Roots" is not about the quick fix, it is about making us think holistically about organizations through the lens of the most successful system there has ever been, nature.
Brian Myres
When we create a world of generous organizations, everyone thrives. Dr. Kathleen Allen takes the reader on a journey to this world by painting a landscape of how high-functioning, generous organizations look based on the longest-running R&D lab on the planet—Nature.
Daniel Lawse
"Leading from the Roots" delivers practical leadership frameworks for individuals to learn how to unleash the energy and create innovative, effective teams.
Anne Bonaparte
Leading from the Roots shows us how to make nature our model and mentor for leadership in today's business world.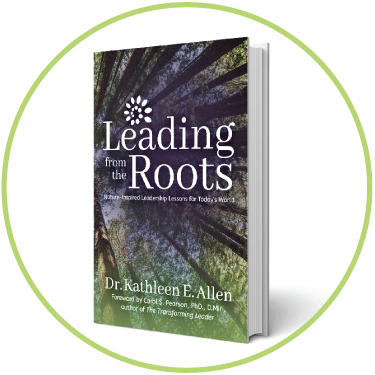 The Concept
Leading from the Roots focuses on how we can reimagine organizations and leadership. The concepts in this book are inspired by nature and uses its underlying design to scale these ideas and principles to organizational contexts. It connects a new set of assumptions with key areas to focus on to lead generous organizations where people, the organization, and the larger community all thrive. Shifting our focus of leadership isn't enough, Leading from the Roots also identifies traditional organizational practices and mindsets that need to be let go of because they are hindering or costly to organizational effectiveness.
Instead of using a machine metaphor to affix leadership thought and practice, Leading from the Roots uses nature. We are living in a time of volatile, complex, and dynamic uncertainty. It is time for us to learn the lessons that nature has complied from 3.8 billion years of research and development. Nature is an interdependent, complex, dynamic and living system – just like our organizations and communities are. Leading from the Roots uses nature as a model, mentor, and muse to help us rethink how we practice leadership.
The Synopsis
The world is experiencing a shift in the primary organizing metaphor from machine to biology. This changes everything. Today we are looking to biology to inform how we think, organize, and lead our organizations. Where we used to see organizations as inert and the people in them as organizational property, today we are beginning to see organizations as living systems, just like nature.
The time has come for nature to become a mentor, model, and muse for the way we understand organizations, and leadership. Nature is a complex, dynamic, open and interdependent system, just like the organizational systems in which we operate. And nature is designed in very different ways. As ecologies evolve in nature, they become more generous because of the enormous diverse mutual relationships that exist to support and share nutrients with each other.
Leading from the Roots uses nature as a source of inspiration to help us see a new way of leading and designing organizations. It applies the generous framework found in mature ecologies to human organizations. It helps us shift our assumptions, practices, structures, and processes to become more resilient and nourishing for all. Leading from the Roots seeks to grow organizational cultures where individuals, the organization and the larger community all thrive. We can choose to consciously design, grow, and lead our organizations so they are more like the generous systems found in nature. And along the way, we will be able to design our way out of workplace dysfunction and drama. Because dysfunction and drama is a function of how we lead and the kind of organizational cultures we create.
Subscribe for Our Newsletter
Receive a free resource on the difference between consumptive and regentive organizations when you sign up.