MINNEAPOLIS (Oct. 9, 2019) — Dr. Kathleen Allen, author of Leading from the Roots, has released an online course entitled Leading from the Roots : Nature Inspired Lessons to Build Health Businesses, in partnership with leading online training platform genConnectU. The new Leading from the Roots Course provides a powerful new way of thinking about organizations as living systems and delivers practical leadership frameworks for individuals to learn how to create innovative and effective teams, and unleash the energy of the people they work with. This course explores five design lessons found in nature and the dynamics of living systems to help us shift our assumptions, practices, structures, and processes of organizations so they can be more resilient and nourishing for all, and along the way teach us how to design our way out of workplace dysfunction and drama.
Utilizing lessons from her book, Dr. Allen asks the questions "
Can we design organizations in a way that creates a place where employees, the organization, and the larger community all thrive? And if so, where can we go for inspiration to help us achieve this goal?"
Leading from the Roots
uses natures lessons from 3.8 billion years of research and experimentation to help organizational leaders rethink how they lead themselves, their teams, and their organizations. 
Leading from the Roots
can be purchased for
$87 online via genConnectU here
. Prospective learners can receive 20% off the regular purchase price by using the promotion code NATURE at checkout.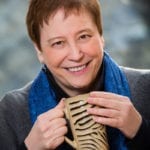 About the Instructor: Dr. Kathleen Allen is the author of Leading from the Roots: Nature Inspired Leadership Lessons for Today's World (2019) and President of Allen and Associates, a consulting firm that specializes in leadership, innovation, and organizational change. She writes a blog on leadership and organizations that describes a new paradigm of leadership that is based in lessons from nature and living systems at www.kathleenallen.net